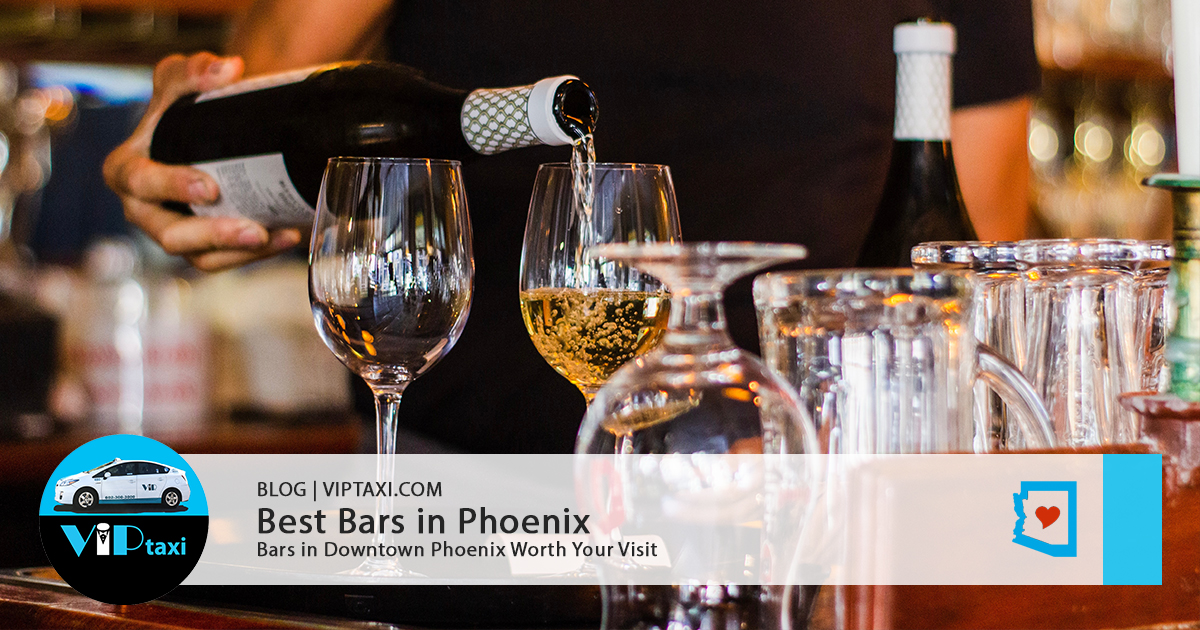 Although it's in the desert, downtown Phoenix never runs dry. As a well-known destination for nightlife, you'll be treated to the scrumptious meals, the best beers, and cocktails Arizona has to offer! Next time you go bar hopping in DTPHX try these bars we've ranked as the best!
---
*Metro Phoenix – Mesa, Tempe, Glendale, Gilbert, Phoenix, Paradise Valley, Scottsdale, Peoria, Avondale, Chandler, Fountain Hills, Arcadia, Uptown, Downtown, Ahwatukee *Tucson Area – Oro Valley, Marana, Sahuarita, South Tucson, Casas Adobes, Catalina Foothills, Flowing Wells, Midvale Park, Tanque Verde, Tortolita, and Vail.
Located just steps away from Chase Field located at 2 E Jefferson St, an experience of a modern pool bar is waiting for you in Lustre. This youthful, modern, and casual terrace pool bar lets you have a drink at their cabana that can seat up to 6 people. Relax in one of their comfortable sunbeds while soaking up the Phoenix sun. The bar also sports a breathtaking view of downtown Phoenix from the third floor of Hotel Palomar. They open at 12 noon and closes at 12 midnight, which gives you plenty of time to enjoy their seasonal drinks and menu. Check out their website for more information.
Downtown Phoenix has bars in almost every street, but not everyone gives you a spectacular view. Head to the Arcadia Neighborhood of Phoenix, and visit the Attic Ale House- with the best views of Camelback Mountain and sunsets that will leave you in awe. Located at 4247 E Indian School Rd, this cozy bar & restaurant serves craft beers, wines, and to-die-for appetizers. Happy hour schedules and the menu is available on their website.
If you love movies, drinks and good company, The Film Bar is where it's at. An independent movie theater hosting private screenings and enhancing the movie experience by serving great drinks. The Film Bar recently won Phoenix New Times' "Best Indie Cinema" award. They're conveniently located at 815 N. 2nd St., Phoenix. Check out their website for movie schedules.
Bar Smith is not your typical night club. If you're into EDM music, this place is a must-try. They serve American comfort food for lunch and dinner too! They're located at 30 E Washington St, Phoenix. For reservations and more information, visit their website. 
This bar probably has the most story to tell. Located in the old 1949 building at 130 N. Central Avenue, this bar covers everything, including swaggy & unique decor, cool people, events, making every visit memorable. Take for example their ROSE ROOM which is named after the very first female governor of Arizona which houses the 50 signature wines and varying cocktails. The art installation inside painted by Darren Clark is based on the Winnie Ruth Judd trial, which is the most terrifying murder case in Phoenix history. Check out their website to know more: www.valleybarphx.com/
Phoenix has  vibrant nightlife, top restaurants, with bars that are sure to bring good time with friends. Experience what Phoenix has to offer in safety and comfort by booking VIP Taxi to your favorite bars and restaurants!

Traveling with Children? Children's Carseat Safety
Learn how VIP Taxi provides children's car seats to ensure the safety of your little ones!
SUPPORT LOCAL, RIDE VIP
At VIP, we take pride in being a LOCAL Arizona Business, and we love supporting other LOCAL Arizona Businesses. We love being part of the Arizona Community, and love doing our part in keeping them safe with reliable, trusted rides home. Don't drink and drive – Call, Text, Book Online, or Download the VIP Taxi App to #RideLocal and avoid Surge Pricing.
RIDE LOCAL to the Airport with VIP Taxi When you're booking a ride to the airport, you want a company that is reliable and trusted by our community. VIP Taxi is local, family owned and operated transportation company that has served Arizona for decades and continues to grow. They also offer flat rates, which means your ride is guaranteed to be that given, fixed cost, or less (if the meter shows a lower price), regardless of traffic. This is the epitome of ditching surge pricing. Download the VIP Taxi App, where you can view your reservation, track your driver, save your payment history, or even pay with CASH! call or text VIP Taxi at (602) 300-3000, or book online at VIPTaxi.com. Even better, download the VIP Taxi App, where you can save your payment info, track/contact driver, and view reservations. Support a local, family owned and operated company.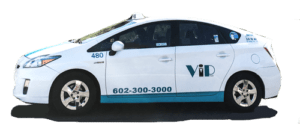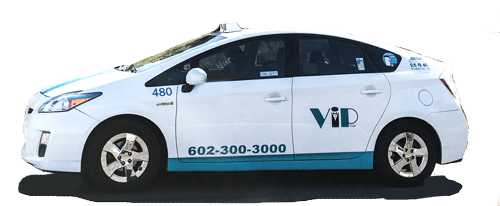 DO YOU LIKE THIS ARTICLE? Sign up for email updates on our community's events, news, and VIP Taxi Special Offers.
Get a Flat Rate to PHX Sky Harbor Airport Guaranteed Rate
Want a clear price on what your ride to the airport will cost? VIP Taxi offers customers flat rates to Phoenix Sky Harbor (PHX) based on the zip code of the pickup address. With VIP Taxi's flat rate, your ride is guaranteed to be that given, fixed cost or less (if the meter is shows a lower price), regardless of traffic! Simply enter the Zip Code of your pick up address, and voila!