Event transportation is one of those aspects of an event that's much more important than your guests and attendees ever realize. After all, an event with guests who either don't arrive or show up in a bad mood has failure written all over it.
With pre-planned event transportation services, they don't have to stress over securing parking and traffic jams in Arizona.
Create a smooth flow in and out of the venue while avoiding delays and discomforts. Whether you're coordinating an event or a corporate party in Phoenix or Tucson, check out these tips!
---
VIP TAXI serves the Metro Phoenix & Tucson Areas
*Metro Phoenix — Mesa, Tempe, Glendale, Gilbert, Phoenix, Paradise Valley, Scottsdale, Peoria, Avondale, Chandler, Fountain Hills, Arcadia, Uptown, Downtown, Ahwatukee *Tucson Area — Oro Valley, Marana, Sahuarita, South Tucson, Casas Adobes, Catalina Foothills, Flowing Wells, Midvale Park, Tanque Verde, Tortolita, and Vail.
Gather Information
The first thing you have to consider is to collect important data to determine the transportation needs of the event. Know the number of attendees, the location of the event, the schedule, and the event transportation services available.
Identify Guest Needs
After gathering all the basic information for the event, knowing your attendees' needs is critical. This might mean knowing their age, amount of luggage, and accessibility needs.
Overestimate the Headcount
It's always best to overestimate the headcount and revise it once the numbers are finalized. At the end of the day, you want to make sure no guest is left without a seat.
Your headcount will tell you what kind of transportation is best for your guests.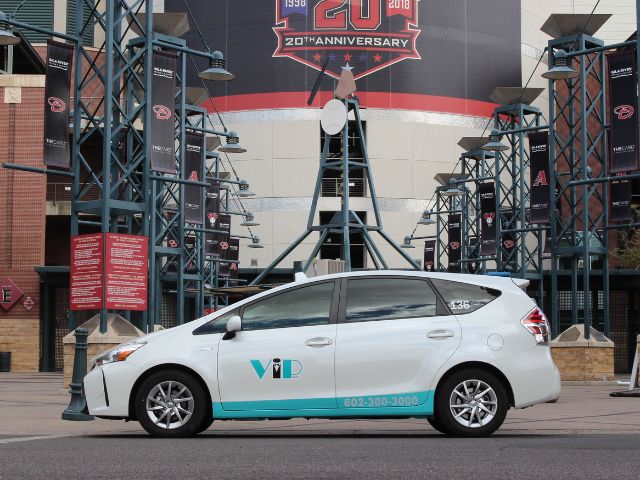 Stress-Free Pick-Up To and From Destinations
Especially for large-scale events, where attendees are in multiple hotels, designating a pick-up location is crucial. With VIP Taxi, all you need to do is provide us with an estimated number of rides and we'll have our vehicles ready. 
Once the time and place are set, our drivers will get there on time to get you to and from your event venue.
In the end, event transportation services will not solely determine your event's success. However, convenient and reliable transportation can improve your guests' experience. Make sure to book with a transportation company that you can rely on.
Event Transportation Services You Can Trust with VIP Taxi
VIP Taxi provides event transportation services to large corporate events and parties in The Valley. With VIP Taxi, rest assured that your employees and attendees get to and from the venue safely.
Event coordinators trust VIP Taxi with their guests, knowing drivers are ready to cater to the ride demand. VIP Taxi can be booked for multiple departures and provides temporary taxi stands for your event where drivers line up in a queue, awaiting your guests' transportation needs. Plus, VIP Taxi's management team will ensure that if demand rises, more rides will be sent to your event location.
For out-of-state attendees, VIP Taxi also provides airport transportation. VIP Taxi offers safe and comfortable rides to and from the Phoenix Sky Harbor, Tucson International Airport (TUS), or any Arizona airport. Catch your flight right on time with VIP Taxi. 
Contact us now to book a ride or visit our website to book online. You can also download the VIP Taxi App where you can view your reservation, track your driver, save payment history and do a whole lot more!
Get a FREE quote and ride like a VIP today!
Book Online
For bookings and current rides, book online with just a few clicks. Simply enter your pick-up and drop-off locations and choose your preferred time. It's that easy!
Book Through Our App
With the VIP Taxi app, booking your NEMT has never been easier! You can track your driver, get live wait time estimates, and have numerous payment options. Plus, you can also have your credit card information saved for easy payments in the future.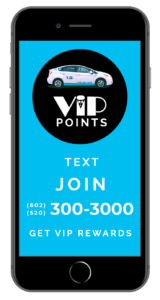 Ride More, Earn More
When you ride with VIP Taxi, you not only support a local company, you earn points with every ride! 
TEXT JOIN to (602) 300-3000 or (520) 300-3000 to enroll. Get 150 complimentary points once you join and automatically get points for any non-account trip taken with VIP Taxi.
Support Local Arizona
The local community in Arizona is a priority to VIP Taxi, supporting Metro Phoenix and Tucson's local food industry, medical establishments, hotels and resorts, and more. Get in touch with us and we'll make sure your guests, patients, clients, or employees get safe and comfortable transportation amazing booking with ride management features.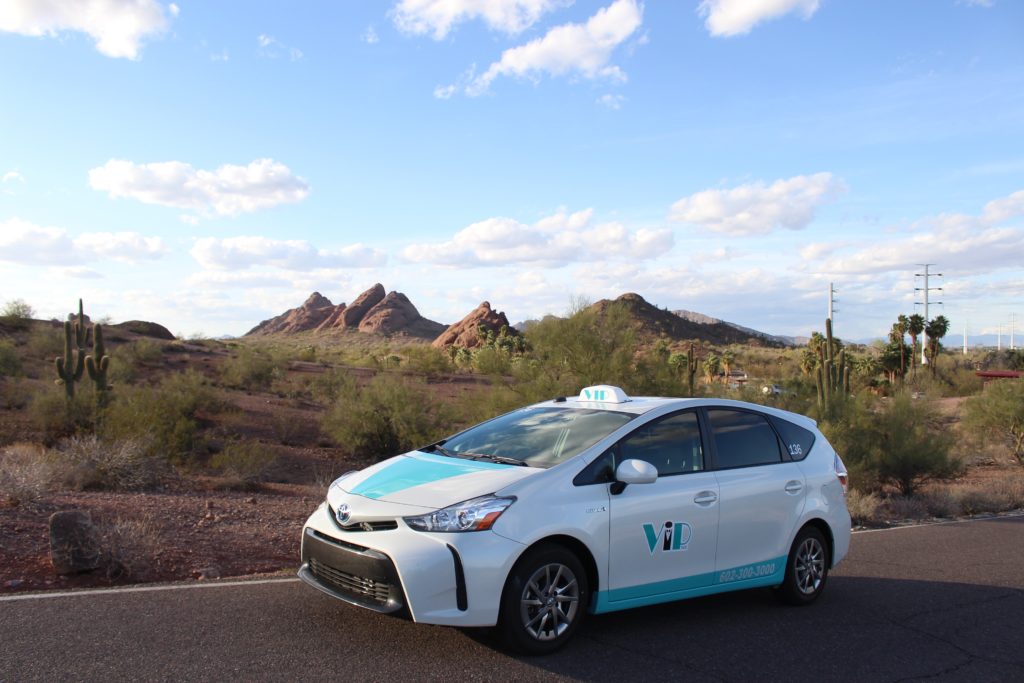 Arizona Trusts VIP Taxi
Our commitment to safety and reliability has set us apart over the years in Phoenix & Tucson, Arizona. That's why we're trusted by Arizona commuters, patients, hospitals and providers in providing the safest ride in Arizona. 
Whether transportation is needed for grocery shopping, pharmacies, medical appointments, or any destination – VIP Taxi is here to serve your specific needs. Thank you for supporting a local, family owned & operated company.
RIDE LOCAL to the Airport with VIP Taxi
When you're booking a ride to the airport, you want a company that is reliable and trusted by our community. VIP Taxi is local, family owned and operated transportation company that has served Arizona for decades and continues to grow. Download the VIP Taxi App, where you can view your reservation, track your driver, save your payment history, or even pay with CASH! call or text VIP Taxi at (602) 300-3000, or book online at VIPTaxi.com. Even better, download the VIP Taxi App, where you can save your payment info, track/contact driver, and view reservations. Support a local, family owned and operated company.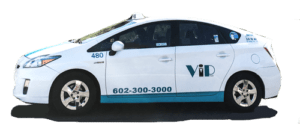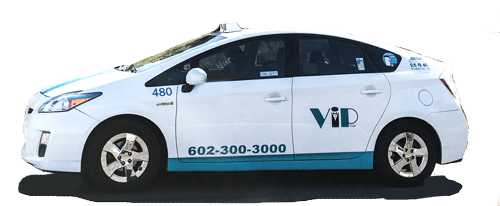 DO YOU LIKE THIS ARTICLE? Sign up for email updates on our community's events, news, and VIP Taxi Special Offers.
Serving All Arizona Airports:
Phoenix–Mesa Gateway Airport (AZA)

Yuma International Airport (NYL, YUM)

Chandler Municipal Airport (CHD)

Glendale Municipal Airport (GEU)

Phoenix Goodyear Airport (GYR)

Eloy Municipal Airport

Gila Bend Municipal Airport
Wickenburg Municipal Airport (E25)

Marana Regional Airport (AVQ, AVW)

Falcon Field (MSC)

Phoenix Deer Valley Airport (DVT)

Scottsdale Airport (SDF)

Ryan Airfield (RYN)

Buckeye Municipal Airport (BXK)

Casa Grande Municipal Airport (CGZ)

Coolidge Municipal Airport
VIP Taxi's local drivers can help you find the best places to dine and visit during your stay. Don't hesitate to ask out so you can make the most of your travel experience.