How to Give Back this Holiday Season
Carve the word "Love" in the hearts of those who are in need and brighten up someone else's life by donating.

Not everyone is blessed with a comfortable home, steady income or even having enough to eat three times a day. You might want to think about all the comforts that you may take for granted every day. Isn't it amazing how you get all the things that you need? But wait, not everyone is privileged enough to experience what you have right now. In our own simple way, we might want to think about how we can give back to our community and the less fortunate..
Here are some ideas on how you can give back this Holiday Season.
1. Choose How You Want to Give Back
There are a lot of ways that you can give back this Holiday Season. You may start with simple things like smiling at a stranger, running errands for someone, sending an appreciation note, or baking for your neighbor. These are actually things that you can do any day, so let's think of something bigger for the Holiday Season that your community can really benefit from. Not only can you donate your time and money, but you can encourage your family, friends or co-workers to participate in local charity and volunteering. There is a variety of volunteer work from feeding the hungry, to participating in food drives.
2. Choose an Organization
When you want to volunteer or donate to charities, look through organizations or foundations to find one that speaks to you most. Researching the organizations' missions and values can be very helpful in knowing and understanding what they really do for your community.
3. Contact the Target Organization
Searching and reading information from the the target organization's website is helpful, but sometimes we are left with questions. Try reaching out to them and ask about all the details to confirm the need for volunteers, schedules, and donation requirements.
Non-profit Local Arizona Organizations that might interest you:
1. United Food Bank
    (480) 926 – 4897
United Food Bank is an organization whose mission is to end hunger in Arizona. They always welcome volunteers since they believe they are the heart and soul of their organization. They have launched different campaigns that have help thousands of families who are in need of food. So if you want to volunteer with them you can choose a volunteer opportunity that suits you.
Food Donation Sorting

(Monday, Tuesday, Wednesday 8:00 a.m. – Noon – additional as needed

): Volunteers will be screening food for quality, sorting into multiple categories and packaging for distribution.

Distribution Preparation  (Thursday 7:30 a.m. – 12:30 p.m.): Volunteers will be preparing Backpack Program buddy bags.
Help Yourself Food Co-op (Friday 7:00 a.m. – 1:00 p.m.): Volunteers will be providing excellent customer service to clients of our Help Yourself Food Co-op by helping with their shopping experience by signing guests up, accepting payment, monitoring food aisles, and assisting guests to their vehicles.
2. Association of Arizona Food Banks
    (602) 528-3434
Association of Arizona Food Bank is an organization with five (5) member food banks that serve 15 counties in Arizona. Their aim is to end hunger in Arizona. They've been coordinating between food banks in transporting fresh produce and coordinating with Feeding America for large donations. They have many different options for you to help in reaching their goal.
A. Monthly Giving: with this you will allow the organization to deduct a certain amount from your debit or credit card either every 5th or 20th of the month.
B. Mail your gift to:
     Association of Arizona Food Banks
     340 E Coronado Road, Ste 400
     Phoenix, AZ, 85004-1524
C. Giving Gift in Honor or a Memory of a Loved One: You may celebrate a special occasion with a contribution in honor or memory of a family member or loved one. These are just a few of the many options that you can choose from. But to answer you better with inquiries, you may reach them directly.
3. Esperanca
    (602) 252-7772
Esperanca has programs in Phoenix that you may find interesting in donating. They have a lot of campaigns that you can choose from. Currently, they are focused on providing health education and resources to Maricopa County's most at-risk and underserved youth and adults. One way of helping this organization is by donating medical supplies that can aid their campaign. You may visit their website or call them now for additional information.
4. St. Mary's Food Bank Alliance
    (602) 242- 3663
St. Mary's Food Bank has been a helping hand in the community by providing food to those who lack access. A great number of the Arizona community is greatly affected by the economic crisis. But this organization is looking for means of ending this burden in the community. You can help them by either becoming their volunteer or donating food. Imagine, a dollar can feed seven (7) meals for our hungry neighbor. Call them if you want to help and make a difference today.
5. Mom's Pantry – A Community Food Bank
    (602) 992-0083
Mom's Pantry was built for one goal, "that no man, woman, or child will go hungry."  They are committed to meeting the needs of the community in terms of struggling from hunger. For you to make a difference, you may be able to extend your help through:
DONATION:

You may give either food or money to meet their goal. All funds are mainly being used to purchase food and hygiene items for distribution.

VOLUNTEERING:  You can also be a volunteer. Tasks include but are not limited to stocking shelves, distributing food, and coordinating food drives. If you want to register visit their website to complete an application form and background check. You may click the link to be routed directly. https://rightsignature.com/forms/MPVolunteer-Form-4636b1/token/1c14c16d752
HOST A FOOD DRIVE: You can host your own food drive at work, at your church, at school, or in your community to help those who are in need across the Valley. If you need more ideas or other inquiries, you may reach them directly.
THROUGH PURCHASES: If you are used to buying online through  Amazon then login to smile.amazon.com. Amazon actually donates 0.5% of your purchase. Remember that you must search and select the charity institution which is Christian Life Outreach Inc. (the parent company based in Ohio).  You get to shop and donate at the same time, a very simple way of helping the community.
Remember, you don't have to be rich to be able to give back this Holiday Season. This season is not just about giving money or food, but showing you care, with your time and consideration. It may be a small act of kindness or no big deal for you, but to those who benefit from what you've donated or the time you volunteered, it could be all the difference in a happy holiday season.
VIP Taxi is a local, family owned and operated company, proud to be part of the Arizona Community. VIP has partnered with United Food Bank to give back to our community, and help those who are struggling, have a happy holiday season.
RIDE LOCAL to the airport with VIP Taxi
When you're booking a ride to the airport, you want a company that is reliable and trusted by our community. VIP Taxi is a local, family-owned, and operated transportation company that has served Arizona for decades and continues to grow. They also offer flat rates, which means your ride is guaranteed to be that given, fixed cost, or less (if the meter shows a lower price), regardless of traffic. This is the epitome of ditching surge pricing. Download the VIP Taxi App, where you can view your reservation, track your driver, save your payment history, or even pay with CASH! call or text VIP Taxi at (602) 300-3000, or book online at VIPTaxi.com. Even better, download the VIP Taxi App, where you can save your payment info, track/contact driver, and view reservations. Support a local, family-owned, and operated company.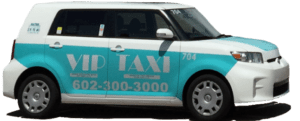 DO YOU LIKE THIS ARTICLE?
Sign up for email updates on our community's events, news, and VIP Taxi Special Offers.
Get a Flat Rate to PHX Sky Harbor Airport
Guaranteed Rate
Want a clear price on what your ride to the airport will cost? VIP Taxi offers customers flat rates to Phoenix Sky Harbor (PHX) based on the zip code of the pickup address. With VIP Taxi's flat rate, your ride is guaranteed to be that given, fixed cost or less (if the meter is shows a lower price), regardless of traffic! Simply enter the Zip Code of your pick up address, and voila!

Traveling with Children?
Children's Carseat Safety
Learn how VIP Taxi provides children's carseats to ensure the safety of your little ones!

VIP Taxi is a local, family owned and operated Arizona transportation company. It is our mission to serve Arizona's transportation needs with the highest of standards. Our team works closely with the drivers to give customers the best experience.
With courteous drivers, industry leading technology, and the lowest per mile meter rate, it's no wonder why VIP Taxi is the chosen transportation provider for thousands of people everyday.