Tips for Traveling During the Holidays
Find out how to travel smart and get through the crowds!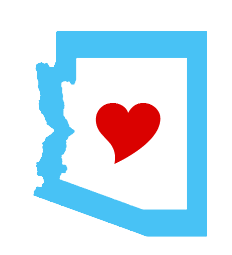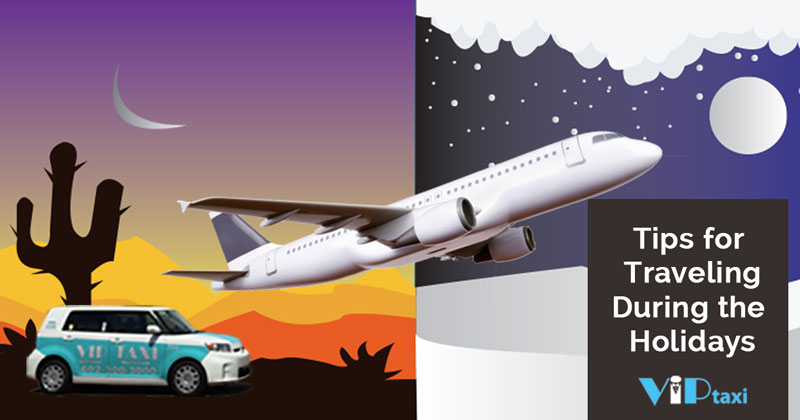 Let's admit it, traveling for the holidays is a mix of both joy and pain. You get the pleasure of being off from work to visit the family, but the journey for it can be quite stressful. People are anxious to make it home, thus creating problems like traffic and hectic airport crowds. Since there are so many transplants in Arizona, brace yourself for some obstacles when flying out during this time. VIP Taxi are the experts at providing reliable airport transportation throughout Arizona, and even offers flat rates to PHX.
Here's a list to help make traveling for the Holidays more efficient.
1.  Plan ahead
It's true that those who fail to plan are planning to fail. The first step is setting a definite date as to when you'd want to fly back home. Once you have your flight information, you will want to plan your transportation. You will want to arrive at the airport at least 1 hour before a domestic flight and 2.5 hours for international. Use VIP Taxi's Online booking to make your reservation in advance. You can easily check the status of your reservation via the online booker or the VIP Taxi App. Planning everything from what you will take with you to what you will wear to the airport will make things go smoothly when traveling to see your loved ones.
2.  Try to Pack Light
Most people flying out for the holidays are only going to be out of town for a few days. Bringing a few tops and pants/skirt options that can mix and match can save you a ton of space. Rolling your clothes can also save space. Without luggage to tag and check, you can skip the long lines at the check-in counter. Print your boarding passes beforehand or at the self-service check-in machines at the airport, then you can breeze right over to the TSA screening line.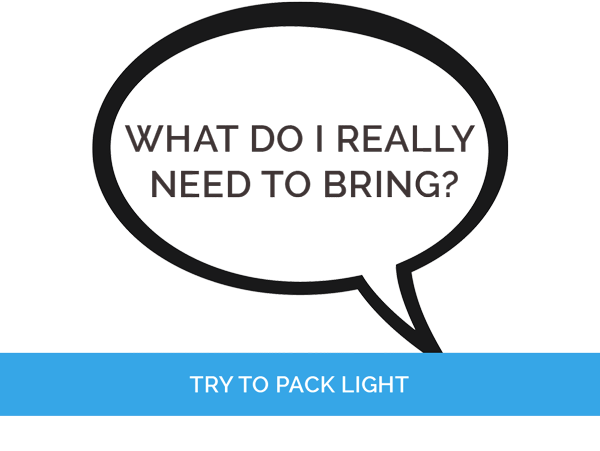 3.  Check flights before going to the airport
It is truly disappointing to arrive at the airport early only to find out that your flight is delayed or canceled. If you've checked out of the hotel already, that's double the pain. Sometimes, airlines send you notifications but it is still recommended to check in case, somehow, the notifications don't make it to you. Google your flight number, or use sites like flightview or flightstats, to check the status before you get to the airport.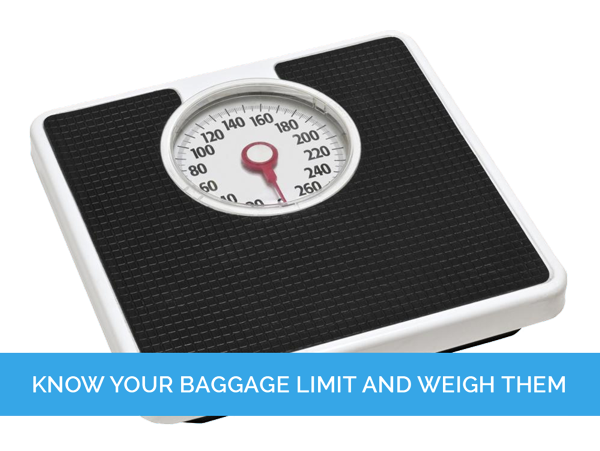 4.  Know your baggage limit and weigh them
If you have to check a bag, make sure you know your airline's weight limits and weigh your bags at home, before you head to the airport. This way, you won't have to pay additional fees due to excess weight, or be "that guy" piling on layers to lighten your luggage. By using your scale at home, you can head to the airport with peace of mind, knowing your bags are compliant. (Using a scale at home: carry the bag on the scale and subtract your weight)
5.  Make sure your documents are reachable
Before reaching the front of the line, make sure that all of your (and your family's) documents (plane ticket, ID, boarding pass) are in your hand or somewhere easily accessible. This is an efficient way to provide a smooth process in checking in.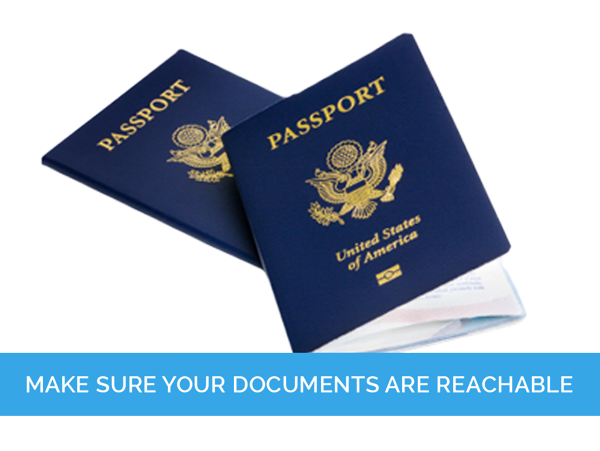 6.  Dress to Succeed
Making it through security can be easy if you take the right steps. What you wear to the airport can save you a good amount of time. Wear shoes that are easy to remove, pants that don't need a belt, and a light sweater. While everyone's fiddling with their belts, unlacing their shoes, and dealing with security hassling their big jackets (like rookies), you'll fly through security, just like a pro.
7.  Get to know basic airport rules
Did you know that Phoenix Sky Harbor Airport (PHX), only allows 3.4 ounces or less of liquids or gels in a carry-on bag?  Liquids or gels must be in one quart-size, clear plastic bag zip-top bag. (bring extra zip-lock bags in case) Pack your liquids and Laptops somewhere easy to access, since they are required to be screened separately. Knowing basic rules like this about your airport can save you time in security.
8.  Sign Up For TSA Precheck or Global Entry
If you are a US Citizen or permanent resident, you may qualify for the TSA Precheck or Global Entry Program that works with popular airlines. This allows you to skip the hassle of security checkpoints all together. You get to hang on to all of your belongings. No conveyor belts, no taking out your laptop, no taking off your belt and shoes, and you don't have to remove your laptops or liquids! There's no body scans, or even pat-downs. Going through security is an absolute breeze, and you can avoid the long lines. After your application is submitted, it usually takes the TSA only 2-3 weeks to get back to you, but once they do a background check, you never have to worry about security!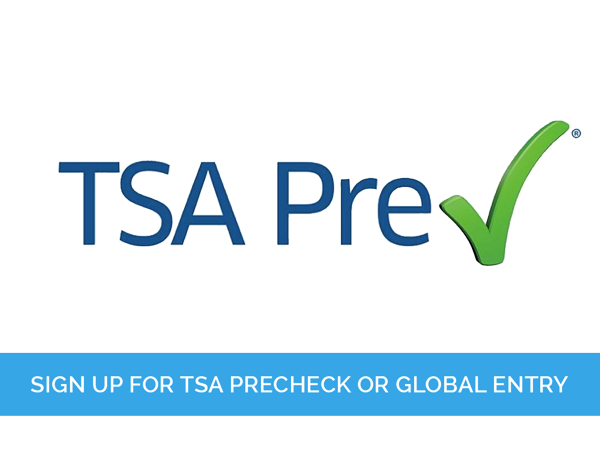 RIDE LOCAL to the airport with VIP Taxi
When you're booking a ride to the airport, you want a company that is reliable and trusted by our community. VIP Taxi is local, family owned and operated transportation company that has served Arizona for decades and continues to grow. They also offer flat rates, which means your ride is guaranteed to be that given, fixed cost, or less (if the meter shows a lower price), regardless of traffic. This is the epitome of ditching surge pricing. Download the VIP Taxi App, where you can view your reservation, track your driver, save your payment history, or even pay with CASH! call or text VIP Taxi at (602) 300-3000, or book online at VIPTaxi.com. Even better, download the VIP Taxi App, where you can save your payment info, track/contact driver, and view reservations. Support a local, family owned and operated company.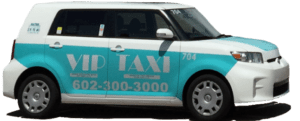 DO YOU LIKE THIS ARTICLE?
Sign up for email updates on our community's events, news, and VIP Taxi Special Offers.
Get a Flat Rate to PHX Sky Harbor Airport
Guaranteed Rate
Want a clear price on what your ride to the airport will cost? VIP Taxi offers customers flat rates to Phoenix Sky Harbor (PHX) based on the zip code of the pickup address. With VIP Taxi's flat rate, your ride is guaranteed to be that given, fixed cost or less (if the meter is shows a lower price), regardless of traffic! Simply enter the Zip Code of your pick up address, and voila!

Traveling with Children?
Children's Carseat Safety
Learn how VIP Taxi provides children's carseats to ensure the safety of your little ones!

VIP Taxi is a local, family owned and operated Arizona transportation company. It is our mission to serve Arizona's transportation needs with the highest of standards. Our team works closely with the drivers to give customers the best experience.
With courteous drivers, industry leading technology, and the lowest per mile meter rate, it's no wonder why VIP Taxi is the chosen transportation provider for thousands of people everyday.