The travel season is here! Snowbirds head south to escape from their snowy, cold climates. People are traveling to visit friends or relatives for the holidays. Whichever category you're in, smart planning and preparation are needed for hassle-free travel during busy season at airports. Here are some tips you should remember when planning your trip.
---
*Metro Phoenix – Mesa, Tempe, Glendale, Gilbert, Phoenix, Paradise Valley, Scottsdale, Peoria, Avondale, Chandler, Fountain Hills, Arcadia, Uptown, Downtown, Ahwatukee *Tucson Area – Oro Valley, Marana, Sahuarita, South Tucson, Casas Adobes, Catalina Foothills, Flowing Wells, Midvale Park, Tanque Verde, Tortolita, and Vail.
The mistake most people make is overpacking. The burden of coming back with a mound of clean clothes to unpack and organize, is one that can easily be avoided. Lighten the load by packing clothes that are interchangeable options, and try not to pack clothes that are too bulky or heavy. Plan out the days you'll be out of town, the different outfits you'll need for each day – that way you will not worry about bringing any unnecessary clothes. Save even more room: If you are leaving for the holidays, have your gifts sent to your destination and wrap them when you get there. 

To add ease to your trip, check-in online with your airline. Airlines typically open online check-in 24 hours prior to departure. This will make your experience at the check-in counter run much smoother. Choose your seats, boarding group, meals, or pay for any upgrades ahead of time. Read through any weight restrictions, fees, regulations, or if any documents are required by your specific airline. Doing this will speed you through the process.

Pack Snacks & Entertainment
Think ahead about what you might crave during your trip. Do you have kids or elderly family traveling with you? Think about what they will need according to the flight and layover duration. The markups on snacks at airports' convenience stores can be astonishing, so you'll really save yourself some money if you have them packed and ready. Don't forget your books/magazines or devices and headphones. Think of different activities your children can use to pass the time, like crayons & coloring books.
Take Care of Your Home While You're Away
You don't want to spend your vacation worrying about things at home like plants, pets, and valuables. Have a relative or a friend check on your home once in a while, or have them stay there to look after things. Close and lock all of your windows and doors, and shut the curtains to block the view into your home. Turn your thermostat to a temperature that will be economical.
Avoid the stress of missing your flight by giving yourself enough time to check your bags, get through security, and even grab a bite or some coffee. It is recommended to arrive at the airport two hours before your flight for domestic flights, and three hours for international flights (more or less), although the time could be less for experienced flyers. Families traveling with small, infant children or elderly will get priority lines at check-in, security, and boarding.
Arrange Transportation Ahead of Time
Parking at the airport can be expensive, a hassle, and can add time. Ask a family member or friend to drop you off at the airport. If no one is available, or you do not want to burden anyone, arrange a ride with VIP Taxi. Call, Text, Book through VIPTaxi.com or use the VIP Taxi App. Unlike ride sharing apps, you can reserve your future ride, pay with cash, and request car seats. Whether you want to avoid having to install/uninstall your car seat in the cab, or if you're traveling to a country where you do not need a car seat, let VIP Taxi take your family to the airport.
There are Many Ways to Book a VIP Taxi Ride

Traveling with Children? Children's Carseat Safety
Learn how VIP Taxi provides children's car seats to ensure the safety of your little ones!
SUPPORT LOCAL, RIDE VIP
At VIP, we take pride in being a LOCAL Arizona Business, and we love supporting other LOCAL Arizona Businesses. We love being part of the Arizona Community, and love doing our part in keeping them safe with reliable, trusted rides home. Don't drink and drive – Call, Text, Book Online, or Download the VIP Taxi App to #RideLocal and avoid Surge Pricing.
RIDE LOCAL to the Airport with VIP Taxi When you're booking a ride to the airport, you want a company that is reliable and trusted by our community. VIP Taxi is local, family owned and operated transportation company that has served Arizona for decades and continues to grow. They also offer flat rates, which means your ride is guaranteed to be that given, fixed cost, or less (if the meter shows a lower price), regardless of traffic. This is the epitome of ditching surge pricing. Download the VIP Taxi App, where you can view your reservation, track your driver, save your payment history, or even pay with CASH! call or text VIP Taxi at (602) 300-3000, or book online at VIPTaxi.com. Even better, download the VIP Taxi App, where you can save your payment info, track/contact driver, and view reservations. Support a local, family owned and operated company.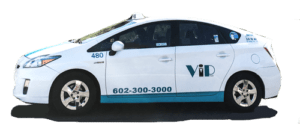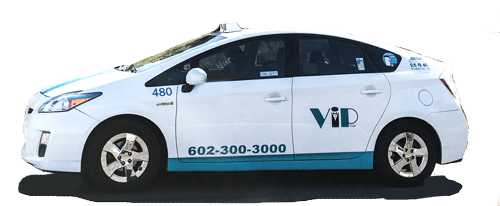 DO YOU LIKE THIS ARTICLE? Sign up for email updates on our community's events, news, and VIP Taxi Special Offers.
Get a Flat Rate to PHX Sky Harbor Airport Guaranteed Rate
Want a clear price on what your ride to the airport will cost? VIP Taxi offers customers flat rates to Phoenix Sky Harbor (PHX) based on the zip code of the pickup address. With VIP Taxi's flat rate, your ride is guaranteed to be that given, fixed cost or less (if the meter is shows a lower price), regardless of traffic! Simply enter the Zip Code of your pick up address, and voila!