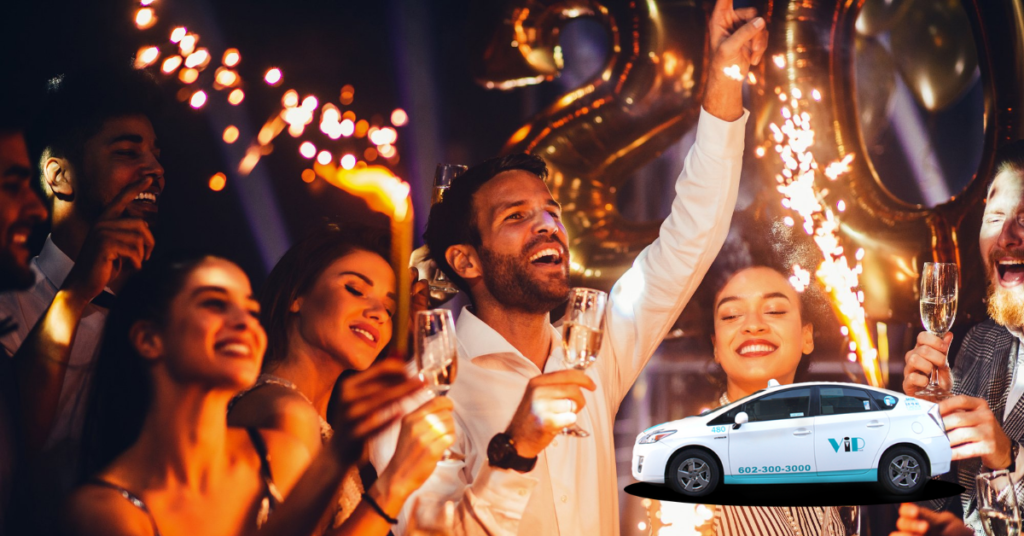 The New Year is definitely a time to celebrate. Your safety should be your foremost concern though, and if you plan on going out for the holiday to do a little indulging, then you should always make sure to consider your well-being and safety.
---
VIP TAXI serves the Metro Phoenix & Tucson Areas
*Metro Phoenix — Mesa, Tempe, Glendale, Gilbert, Phoenix, Paradise Valley, Scottsdale, Peoria, Avondale, Chandler, Fountain Hills, Arcadia, Uptown, Downtown, Ahwatukee *Tucson Area — Oro Valley, Marana, Sahuarita, South Tucson, Casas Adobes, Catalina Foothills, Flowing Wells, Midvale Park, Tanque Verde, Tortolita, and Vail.
Here are a few tips to navigate your New Year's celebration.
Celebrate With Friends
Although it's good to socialize and meet new people, the buddy system can make all the difference when it comes to safety. With almost everyone in town out to celebrate, you never know who might be inebriated, out of control, or there could be shady individuals with malicious, alternative motives.
Mind Your Limitations
Since many of us have been isolated for the last 2 years, it's understandable to get excited about being able to celebrate with friends and family. Pace yourself and enjoy the holiday. It may have been a while since you've partied, so let your drinks digest and avoid going overboard with binge drinking. You don't want to ruin everyone's night because they have to take care of you, plus you might do things you regret if you're too drunk.
Be Aware of Your Surroundings
It's important to be aware of your environment, especially when you're out and about in large crowds or events. Know the exits and be on the lookout for troublesome groups or individuals to avoid them. Be sure to always keep an eye on your drinks to make sure no one alters or touches it.
Avoid Driving
There are so many reasons to avoid driving while celebrating the New Year. The most obvious reason is the dangers of driving under the influence, where you could hurt yourself or others. You can also ruin your night, and possibly your life, if you are arrested for DUI. 
Plus, you don't want to deal with the nightmare of having to navigate traffic and parking as streets are likely to be closed off and parking spaces fill up early.
Visiting from out of town?

Book Airport & Transportation with VIP Taxi, AZ's most trusted rides.
Get Home Safe With VIP Taxi
Our drivers serve you all year round, even during New Year's celebrations to ensure that you get home safely, 24/7. Our courteous and well-trained drivers are happy to provide you with the safest rides in Arizona so you can enjoy the New Year and welcome new opportunities ahead.
Book with VIP Taxi Today.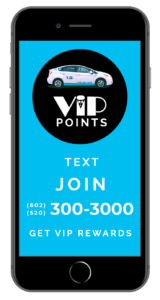 Ride More, Earn More
When you ride with VIP Taxi, you not only support a local company, you earn points with every ride! 
TEXT JOIN to (602) 300-3000 or (520) 300-3000 to enroll. Get 150 complimentary points once you join and automatically get points for any non-account trip taken with VIP Taxi.
Serving All Arizona Airports:
Phoenix–Mesa Gateway Airport (AZA)

Yuma International Airport (NYL, YUM)

Chandler Municipal Airport (CHD)

Glendale Municipal Airport (GEU)

Phoenix Goodyear Airport (GYR)

Eloy Municipal Airport

Gila Bend Municipal Airport
Wickenburg Municipal Airport (E25)

Marana Regional Airport (AVQ, AVW)

Falcon Field (MSC)

Phoenix Deer Valley Airport (DVT)

Scottsdale Airport (SDF)

Ryan Airfield (RYN)

Buckeye Municipal Airport (BXK)

Casa Grande Municipal Airport (CGZ)

Coolidge Municipal Airport
RIDE LOCAL to the Airport with VIP Taxi
When you're booking a ride to the airport, you want a company that is reliable and trusted by our community. VIP Taxi is local, family owned and operated transportation company that has served Arizona for decades and continues to grow. Download the VIP Taxi App, where you can view your reservation, track your driver, save your payment history, or even pay with CASH! call or text VIP Taxi at (602) 300-3000, or book online at VIPTaxi.com. Even better, download the VIP Taxi App, where you can save your payment info, track/contact driver, and view reservations. Support a local, family owned and operated company.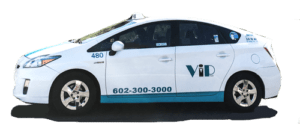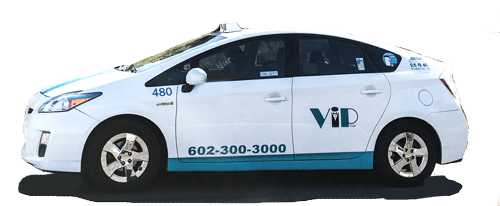 DO YOU LIKE THIS ARTICLE? Sign up for email updates on our community's events, news, and VIP Taxi Special Offers.