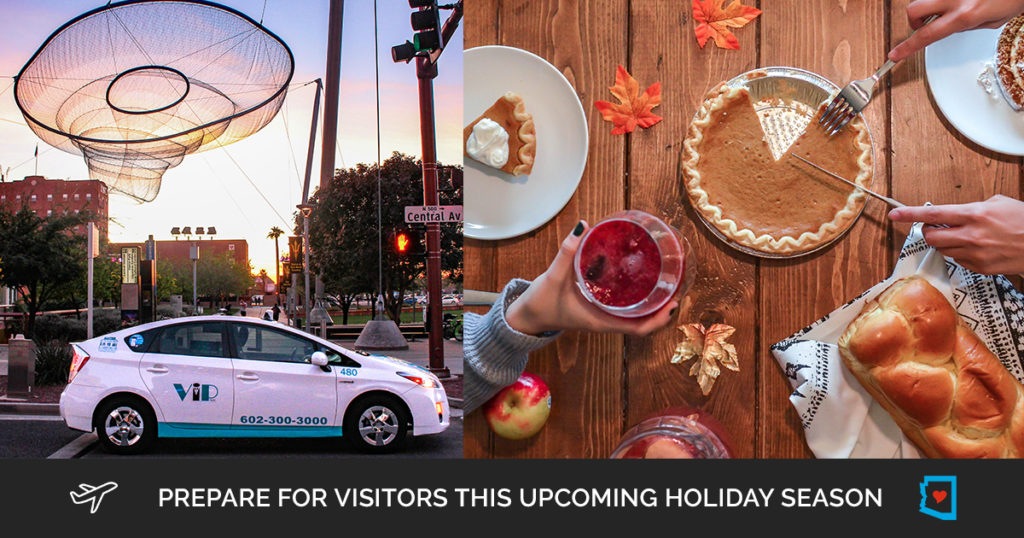 The holiday season is here, and people are scrambling to prepare their homes for incoming visitors. How do you make sure that they feel a warm welcome as soon they arrive? Here are a few tips to get you started on preparing.
VIP Taxi is a local, family-owned and operated transportation company in The Metro Phoenix & Tucson Area*, Arizona. Truly customer service centered, VIP has built a trusting and friendly reputation in the community. When you need reliable transportation, choose VIP. 
---
*Metro Phoenix – Mesa, Tempe, Glendale, Gilbert, Phoenix, Paradise Valley, Scottsdale, Peoria, Avondale, Chandler, Fountain Hills, Arcadia, Uptown, Downtown, Ahwatukee
*Tucson Area – Oro Valley, Marana, Sahuarita, South Tucson, Casas Adobes, Catalina Foothills, Flowing Wells, Midvale Park, Tanque Verde, Tortolita, and Vail.
VIP Taxi is Phoenix's most reliable transportation to PHX Sky Harbor Airport. Book a ride now!
Welcome your Visitors at the Airport
What better way to make your holiday visitors feel welcome than to pick them up at the airport? It shows that you're not only excited to see them, but you can't wait to spend time with them as well.
If you can't show up, no worries, VIP Taxi is at the arrivals curb at both Phoenix Sky Harbor Airport (PHX) and Tucson International Airport (TUS).
Prepare Basic Necessities
When it comes to necessities, it's never wrong to go a little over the top. Stock up your pantry with food. Declutter your home and create a good space to get your visitors settled in. Replace old beddings with fresh ones. Make sure toiletries and towels are readily available.
Anticipating their every need sends the message that you love having them around.  
Food is always good at bringing people together and there's nothing better than a tasty meal after travelling. While you can never go wrong with simple meals, it's always good to put in a little extra effort especially during this holiday season.
If you want to try new recipes, be sure to practice cooking them long before your guests arrive!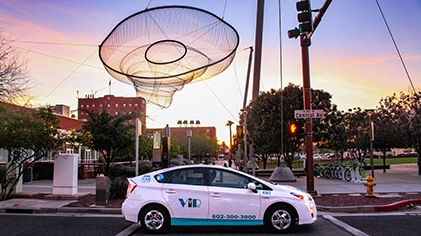 Tour Non-locals Around the City
If your guests are visiting Arizona from another country or another state, chances are they'll want to be shown around. Give them the gift of experience. If they love food, take them to the best pizza restaurants or Mexican restaurants around Phoenix. If they're old enough to drink, give them a taste of Tucson's local breweries. With a bustling arts and crafts culture, there is so much to see around Arizona this time of year.
We'll provide your visitors with a safe and comfortable ride to and from the airport. Book a ride with us and get rewarded! If you want to show them around, going on a tour around the city should be hassle-free. With VIP Taxi, you can be sure that there is NO SURGE-PRICING during the holiday season, and that there's enough seats for you and your guests.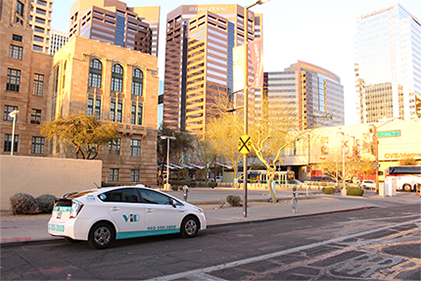 Traveling with Children?
Children's Carseat Safety
Learn how VIP Taxi provides children's car seats
to ensure the safety of your little ones!
SUPPORT LOCAL, RIDE VIP
At VIP, we take pride in being a LOCAL Arizona Business, and we love supporting other LOCAL Arizona Businesses. We love being part of the Arizona Community, and love doing our part in keeping them safe with reliable, trusted rides home. Don't drink and drive – Call, Text, Book Online, or Download the VIP Taxi App to #RideLocal and avoid Surge Pricing.
RIDE LOCAL to the Airport with VIP Taxi
When you're booking a ride to the airport, you want a company that is reliable and trusted by our community. VIP Taxi is local, family owned and operated transportation company that has served Arizona for decades and continues to grow. They also offer flat rates, which means your ride is guaranteed to be that given, fixed cost, or less (if the meter shows a lower price), regardless of traffic. This is the epitome of ditching surge pricing. Download the VIP Taxi App, where you can view your reservation, track your driver, save your payment history, or even pay with CASH! call or text VIP Taxi at (602) 300-3000, or book online at VIPTaxi.com. Even better, download the VIP Taxi App, where you can save your payment info, track/contact driver, and view reservations. Support a local, family owned and operated company.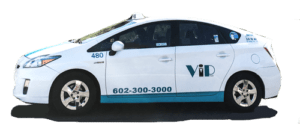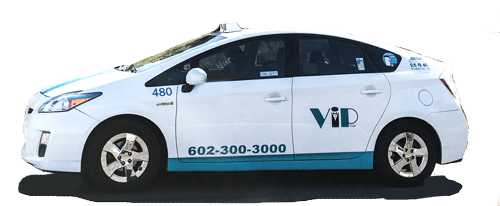 DO YOU LIKE THIS ARTICLE?
Sign up for email updates on our community's events, news, and VIP Taxi Special Offers.
Get a Flat Rate to PHX Sky Harbor Airport
Guaranteed Rate
Want a clear price on what your ride to the airport will cost? VIP Taxi offers customers flat rates to Phoenix Sky Harbor (PHX) based on the zip code of the pickup address. With VIP Taxi's flat rate, your ride is guaranteed to be that given, fixed cost or less (if the meter is shows a lower price), regardless of traffic! Simply enter the Zip Code of your pick up address, and voila!