Looking to step up your driving career? Look no further! VIP Taxi offers exciting opportunities for drivers seeking consistent, high-demand jobs in Phoenix and Tucson, two of Arizona's fastest-growing cities.
In this blog post, we'll explore why applying to drive with VIP Taxi can be a game-changer for those looking for stability, exceptional benefits, and the potential to earn more through corporate accounts and non-emergency medical transportation services or NEMT. Now fasten your seat belts and let's dive into the world of driving with VIP Taxi.
Corporate Accounts: A Steady Stream of Business
One of the key advantages of driving with VIP Taxi is the extensive network of corporate accounts. These accounts provide a consistent flow of business throughout the year, ensuring drivers have a reliable income. From airport transfers to executive transportation, VIP Taxi's corporate accounts keep the demand for drivers high, creating a stable and profitable driving career.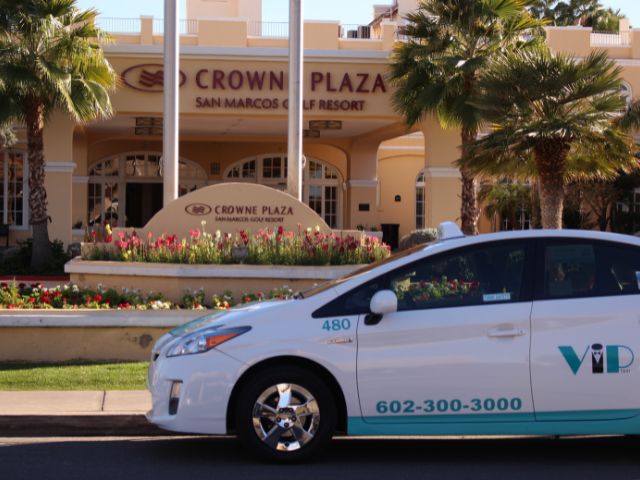 NEMT Services: Fulfilling a Crucial Need
More Reasons to Drive with VIP Taxi
Finding Jobs in Phoenix and Tucson
Drivers can easily tap into the high-demand market and secure consistent driving jobs in Phoenix and Tucson with VIP Taxi. Whether it's navigating the bustling streets of Phoenix or catering to the transportation needs of Tucson's residents and visitors, the goal is to provide a platform for drivers to thrive in these vibrant cities.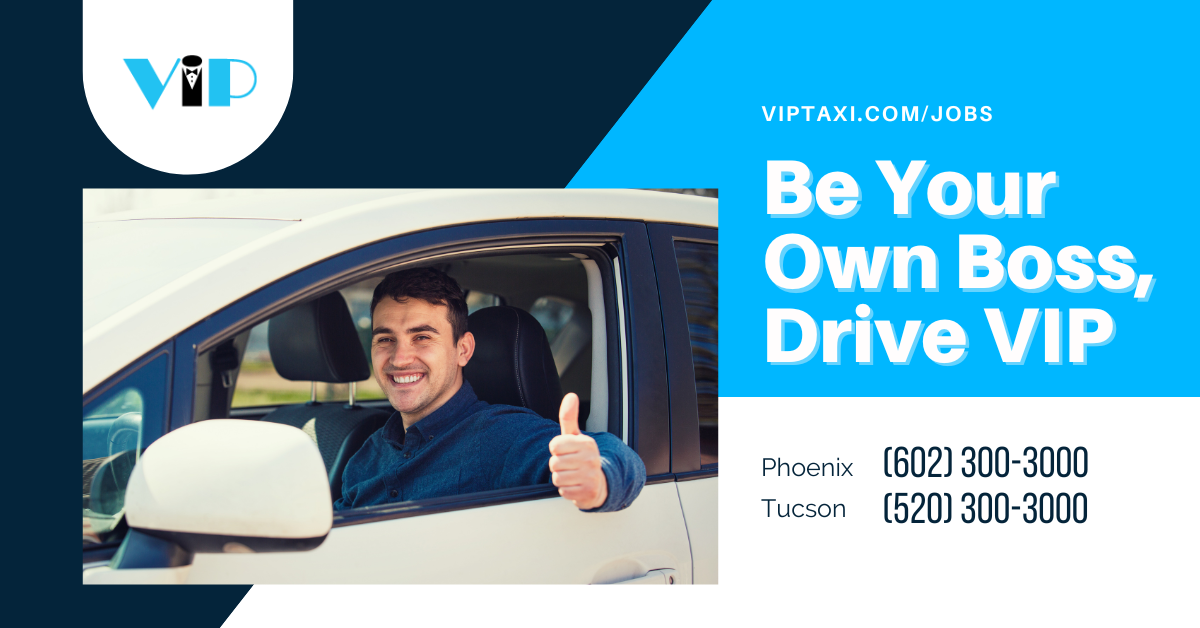 If you're searching for a rewarding driving career with consistent demand, VIP Taxi is the perfect choice. With corporate accounts ensuring a steady stream of business and the growing demand for NEMT services, drivers have ample opportunities to earn more and enjoy job stability. 
Additionally, VIP Taxi's commitment to driver support and access to advanced technology adds further value to the driving experience. Grab one of the best jobs in Phoenix and Tucson now!
It's time to accelerate your career. Join VIP Taxi today and embark on a fulfilling and lucrative journey with your driving career in Phoenix or Tucson.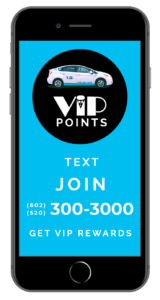 Ride More, Earn More
When you ride with VIP Taxi, you not only support a local company, you earn points with every ride! 
TEXT JOIN to (602) 300-3000 or (520) 300-3000 to enroll. Get 150 complimentary points once you join and automatically get points for any non-account trip taken with VIP Taxi.
Support Local Arizona
The local community in Arizona is a priority to VIP Taxi, supporting Metro Phoenix and Tucson's local food industry, medical establishments, hotels and resorts, and more. Get in touch with us and we'll make sure your guests, patients, clients, or employees get safe and comfortable transportation amazing booking with ride management features.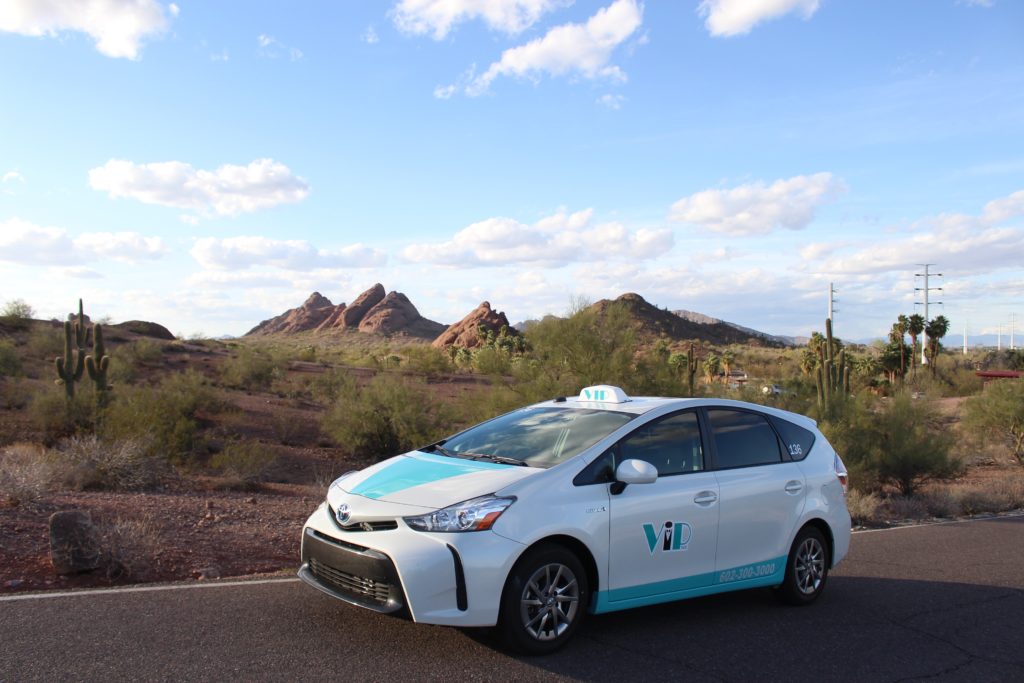 Arizona Trusts VIP Taxi
Our commitment to safety and reliability has set us apart over the years in Phoenix & Tucson, Arizona. That's why we're trusted by Arizona commuters, patients, hospitals and providers in providing the safest ride in Arizona. 
Whether transportation is needed for grocery shopping, pharmacies, medical appointments, or any destination – VIP Taxi is here to serve your specific needs. Thank you for supporting a local, family owned & operated company.
RIDE LOCAL to the Airport with VIP Taxi
When you're booking a ride to the airport, you want a company that is reliable and trusted by our community. VIP Taxi is local, family owned and operated transportation company that has served Arizona for decades and continues to grow. Download the VIP Taxi App, where you can view your reservation, track your driver, save your payment history, or even pay with CASH! call or text VIP Taxi at (602) 300-3000, or book online at VIPTaxi.com. Even better, download the VIP Taxi App, where you can save your payment info, track/contact driver, and view reservations. Support a local, family owned and operated company.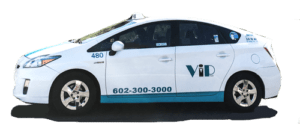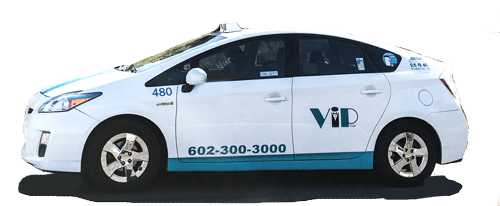 DO YOU LIKE THIS ARTICLE? Sign up for email updates on our community's events, news, and VIP Taxi Special Offers.
Serving All Arizona Airports:
Phoenix–Mesa Gateway Airport (AZA)

Chandler Municipal Airport (CHD)

Glendale Municipal Airport (GEU)

Phoenix Goodyear Airport (GYR)
Marana Regional Airport (AVQ, AVW)

Phoenix Deer Valley Airport (DVT)

Scottsdale Airport (SDF)

Buckeye Municipal Airport (BXK)

Casa Grande Municipal Airport (CGZ)
VIP Taxi's local drivers can help you find the best places to dine and visit during your stay. Don't hesitate to ask out so you can make the most of your travel experience.